My hope for Ultimate Impact is that youth will grow up in the program, fall in love with the sport, and represent our goal of creating young leaders through our work. At 11 years old, Paolo stands out from others and his love of the sport embodies this hope. Before Ultimate Impact started at his school, Paolo didn't play many sports but ultimate has quickly become his passion. He watches ultimate videos on Youtube and often comments that he's watching old Revolver finals. He's worked incredibly hard during practice and at home to improve his throws and he's the emotional leader for his team. His enthusiasm and excitement for the sport is so contagious that Paolo has even taught his two younger brothers how to throw and others at his school. For a class project, he wrote two stories about ultimate Frisbee and shared them with me. Read his long essay or his short story about ultimate success. I'm so proud of Paolo and the positive role that Ultimate Impact has had in his life.
With a little over a year and a half of Ultimate Impact coaching and mentorship, we are seeing many of our youth excel at throwing and catching skills. From the start, we teach kids good balance and form while making it fun! As you can see, it's paying off. Most of the kids in the video are part of our elementary school program.
We recently started an all-girls practice once a week at one of our elementary schools and the group has quickly grown from four to twelve girls in less than a month. The girls range in age from eight to ten years old and they have commented how much they appreciate their own practice time without the boys. The group has even prepared their own "Ultimate Dance" that they performed at the end of a practice. For our middle school program, we partnered with Bay Area Disc to host an all-girls clinic in April for the girls soccer team at Francisco Middle School (one of our partner locations).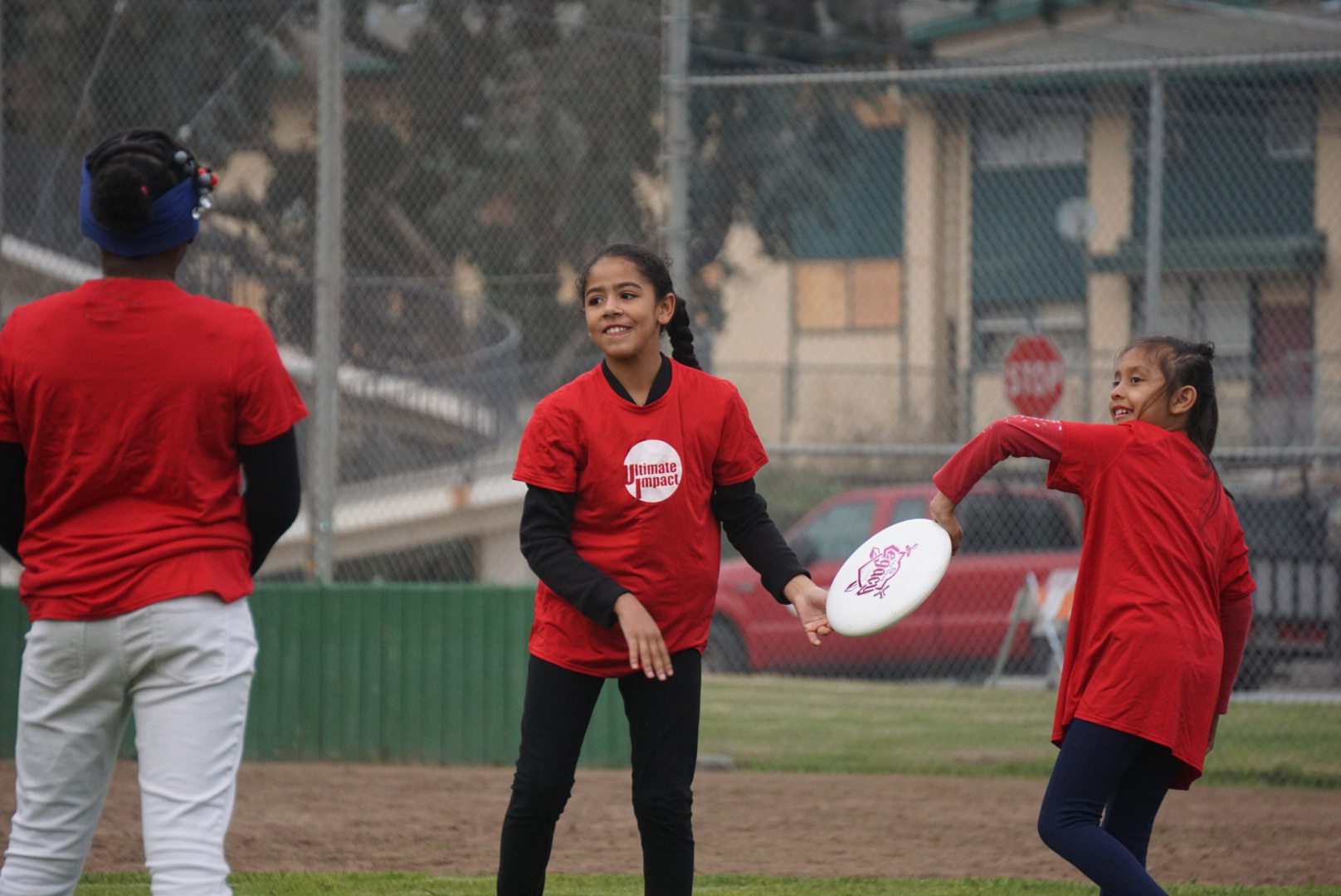 Pat King shares his Ultimate Impact experience in Skyd Magazine. Pat is an Ultimate Impact board member, USAU Hall of Famer, founding member of the Dartmouth College ultimate team and the founder and captain of New York Ultimate, a club team in New York City that collected six national and four world championships.
Special Playing Opportunities
Thanks to your support, we're able to provide many great opportunities for Ultimate Impact youth to play, learn, meet others, and have fun playing ultimate. In the past four months (in addition to weekly training sessions at each of our partner locations), our youth have played in a scrimmage in Oakland, traveled to Orinda to play in a mini-tournament, attended our monthly U11 pick-up game at Gilman Playground, and had the opportunity to play in a beach game during spring break. Check out the photos below.